SEBASTIAN HELLING - CARRIED AWAY BY COSMIC CORDS
Discover our latest edition in collaboration with the incredible Sebastian Helling - offering exclusive hand-painted prints on sleek aluminum, each accompanied by a custom frame. The renowned artist who is rooted in the graffiti scene has infused his unmistakable style into each and every piece of this limited 30 piece edition.
GO TO PRESALE
BOB GEERTS - LUCHADORES POR LA LIBERTAD
ONE OFF ANY is more than excited to present Bob Geerts' first ever edition 'LUCHADORES POR LA LIBERTAD'. This unique series showcases hand-embellished prints on premium oak wood, enhanced with a glossy epoxy layer and custom framing.
SOLD OUT
JULIEN JACA - 'BLACK CAT'
Invite good fortune into your life with the 'BLACK CAT' limited print edition by Julien Jaca. Featuring an antique pot that is adorned with the iconic cartoon character Felix the Cat, the 'BLACK CAT' symbolises originally luck, good health, prosperity and protection. Edition of 50 with only 2 pieces left:
NOW AVAILABLE
JULIEN JACA - 'DOOM POT'
Resembling a vase through which a skull emerges dramatically, the 'DOOM POT' serves as a sculptural extension of Jaca's series of 'Pot Paintings'. The recurring motif of the skull in his art serves as an allegory of humanity, reminding us of our own 'vanitas'. Edition of 4 bronze sculptures.
NOW AVAILABLE
LAUST HØJGAARD - 'SPAGGY'
Since our first collaboration Laust Højgaard sold out in no time, we are very happy to announce that we teamed up with him for a second exciting release: the 'Spaggy' bronze sculpture! Coming with a black patina and sanded highlights that will oxidate with time, each bronze sculpture is uniquely hand finished by the artist.
INQUIRE NOW
ANASTASIA BAY - 'BOXERS'
We are thrilled to announce that the 'BOXERS' edition - an interactive painting series created in collaboration with Anastasia Bay - is being released on Wednesday, May 10th at 4pm CEST. Bay's contemporary take on the boxer archetype, a recurring motif in her art, has been transformed into movable characters in a 3D boxing ring that allows the viewer to engage with the artwork.
NOW AVAILABLE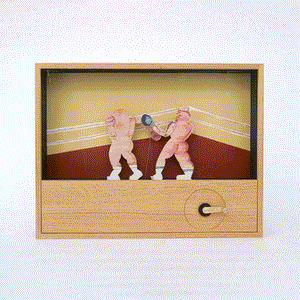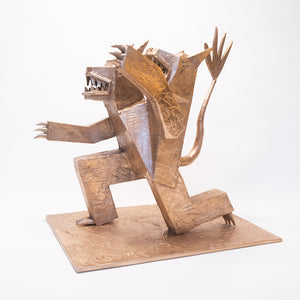 JORDY KERWICK - 'THE TIME KEEPER'
We are thrilled to present to you yet another collaboration with the incredible Jordy Kerwick. 'The Time Keeper' will be available in a limited edition of 20 + 2 proofs. Each piece will be uniquely hand painted by the artist and officially released later this year.
INQUIRE NOW
JULIEN JACA - 'TEARS IN HEAVEN'
We are excited to introduce a new collectible format that different artists will be asked to fill with life - the artist journal. We're thrilled to present the first issue with Julien Jaca who created a biker themed box, including a biker's bell made out of bronze, an artist book, back patches, a unique painting and a print.
NOW AVAILABLE